A Look At The All-Electric Ford F-150 Lightning
May 2021 was an exciting time for Ford and F-150 lovers everywhere, as the company revealed its highly anticipated F-150 Lightning, an all-electric pick-up that's powering the country's drive toward an electrifying future.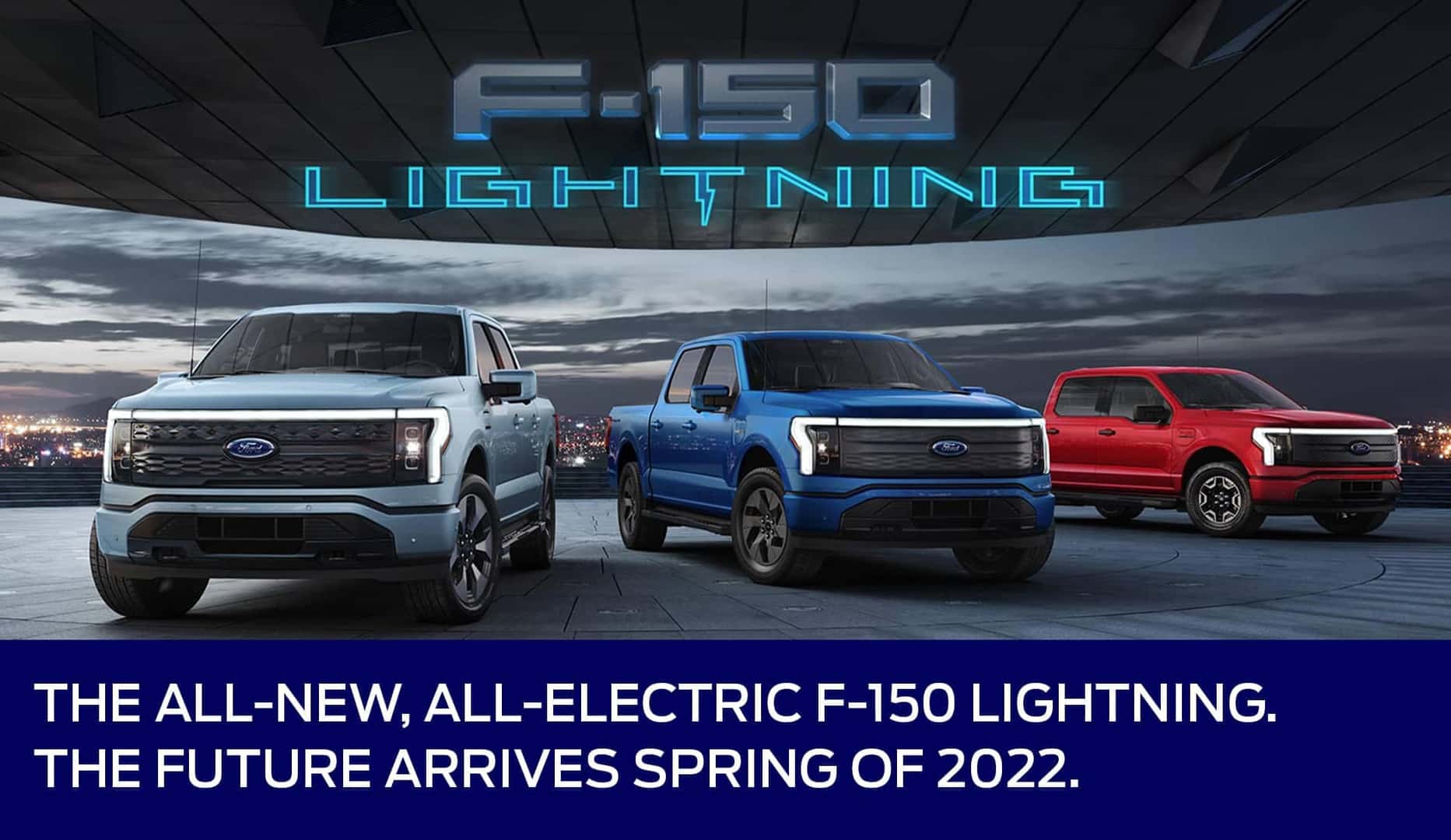 Ford's F-150 Lightning is a 563 HP workhorse that takes the F-150 you love and adds the top tech on the market today.
It starts with two lithium-ion battery options: a standard battery that targets a range of 230 miles, or an extended-range option for the long haul, targeting 300 miles . Inside the cabin you'll find an all-new, immersive and adaptive touch screen that monitors your real-world range through FordPass notifications that also go to the driver's smartphone, making it easy to follow the battery power on the road. FordPass helps drivers extend their range by monitoring energy after one-third charge, with the option to disable Pro Power Onboard capabilities until the truck is near charging stations.
The dash instruments are digital and customizable, and all are programmed with Ford Power-Up software to keep the F-150 Lightning tech up-to-date at all times.
New to the Lightning is a freshly engineered aluminum alloy body and military-grade steel frame that can support up to 10,000 lbs. in towing weight. It packs the most torque of any F-150 in history–225 lb.-ft. to be exact–meaning it can stand up to any job you have in mind.
The F-150 Lightning is more than just a work truck, though. The truck charges off Ford's custom 80-amp Charge Station Pro, which is installed into your home's power grid. In the event of a power outage, the Lightning can utilize Ford Intelligent Backup Power to transfer power back into the Charge Station Pro, turning it into a 9.6 kW generator that can power the average home for up to three full days.
Even more exciting is the price, which starts at $39,974 for the entry model and $52,974 for the mid-series XLT trim. The F-150 Lightning also qualifies for federal tax credits up to $7,500 USD, as the push for electric vehicles (EVs) continue.
Ford is currently accepting $100 deposits to save a spot in the F-150 Lightning lineup. Click here to find out more from the Ford website. Interested in learning more? Visit our locations page to find a Ford dealership near you.
---
More Info