A Different Flavor for Bentley
Bentley has been busy growing its GT family with the launch of the new S range. The new Continental GT and GTC upgrades focus on driving dynamics and visual presence. So while the mechanics have stayed largely the same, the GT S and the GTC S have been elevated visually to emphasize a bolder look. Enhancements have been made to the interior and exterior, and focus has shifted to the pleasure of driving.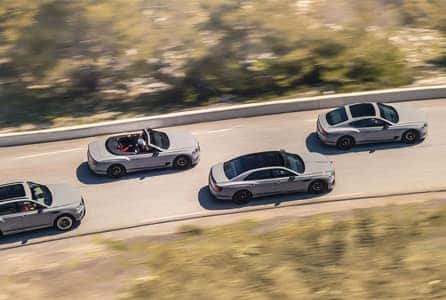 Bentley has focused on adding a sportier character to the base V-8 versions of the Continental GT and GTC. The range maintains the standard V8's output of 404kW and 770Nm, and 542 hp and 568 lb-ft of torque. That's good for a 0-62 mph time of around 4.0 seconds. Bentley enthusiasts will also find that a standard exhaust will get both models to sing.
In terms of exterior, Bentley has opted to black out everything, including grilles, light surrounds, trim pieces; even headlights and taillights got a darker plunge. The new 22" wheel option is available with red brake calipers and really emphasizes the sportiness of the vehicle.
Complementing the dynamic and purposeful exterior design is an interior that's striking and performance-focused, with a two-tone color split that's unique to the S models. Also unique is a new embroidered S design replacing the typical Bentley badge on the sports seats. The contrast of leather and Dinamica also make for a more tactile and sophisticated ride.
The combination of beautiful design, unmatched performance, and newfound agility gives the Continental GT S and Continental GTC S strong appeal for all those who love a powerful, bold performance car. Which model would you choose?
Learn more about Bentley and other luxury brands at our Holman Motorcars stores in Fort Lauderdale and St. Louis.